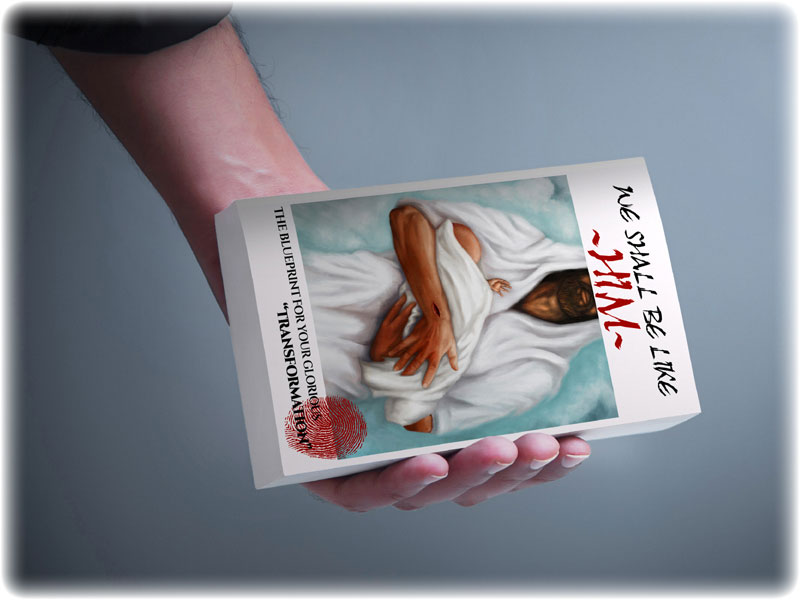 In His Likeness, Now!
"Grace and peace be multiplied unto you through the knowledge of God, and of Jesus our Lord, According as his divine power hath given unto us all things that pertain unto life and godliness, through the knowledge of him that hath called us to glory and virtue: Whereby are given unto us exceeding great and precious promises: that by these ye might be partakers of the Divine Nature, having escaped the corruption that is in the world through lust." (2 Peter 1:2-4)
            Jesus has granted us all things pertaining to life and godliness. This will be the topic for the forthcoming chapters. We will be unlocking the "Affirmations" given to us by Jesus. We will cover the blessings Jesus has already released upon the family. The divine instruments He received of the Father and once again shared with the Family of God. We have covered a lot of ground as we went through the "Proclamations." I am confident our Daddy has revealed many new truths to you. These proclamations have helped us to better understand the verses above found in 2 Peter 1:2-4. Now we can get a glimpse of what is meant when it is said, "He has granted to us his precious and very great promises, so that through them you may become partakers of the Divine Nature," These precious promises/affirmations show how much we will share in His Divine Nature. Many mysteries remain about the Heavenly Kingdom. I have no doubt there are things in store for us that our minds cannot even fathom. So glorious, so magnificent, so wonderful, there are not words spoken to even describe the awesomeness that will be. We have a lot to look forward too. That is for sure.
             I think I can best convey the idea this way. I personally believe, yet without a scripture to back it up, that there will be colors in heaven we have never seen before. Now I do not have a verse to prove this point, it is just something I believe. So the question is, if this is true, how would I describe these colors to you? I have no avenue to share with you something no one has seen before. However, I believe they are there and are real. Jesus ran into this same issue talking to Nicodemus, "If I have told you earthly things, and ye believe not, how shall ye believe, if I tell you of heavenly things?" (Joh 3:12) The following verse flushes this out even more. "For we know in part, and we prophesy in part. But when that which is perfect is come, then that which is in part shall be done away. When I was a child, I spake as a child, I understood as a child, I thought as a child: but when I became a man, I put away childish things. For now we see through a glass, darkly; but then face to face: now I know in part; but then shall I know even as also I am known. And now abideth faith, hope, charity, these three; but the greatest of these is charity." (1Co 13:9-13) We would be wise to ask why these three things remain after what He just said. He declared we only know part and can only prophesy [speak] in part or in an incomplete manner. Nevertheless, three things remain. They are Faith [trust], Hope, and Love. Until that which is perfect comes, these three are no mystery at all! They are the foundation of what cannot be fully understood. If you want to understand Heaven, then begin with Faith, Hope, and Love. Everything to behold beyond the gates of Heaven have sprouted up from these three attributes.
            Love, is said to be the greatest. It is the greatest foundation that remains. It is the bedrock of eternity. The House of Heaven is built upon it. Let us read why, "Whosoever shall confess that Jesus is the Son of God, God dwelleth in him, and he in God. And we have known and believed the love that God hath to us. God is love; and he that dwelleth in love dwelleth in God, and God in him." (1Jn 4:15-16) God is love; love is the foundation of all things of heaven. To further express these points, allow me a moment. Before there ever was a word, we knew as love, before there ever was a human being, before the world was created; God has determined within Himself what was good and what was evil. He took no council from His creation. When creation was brought forth, these decisions became clear. For example, our Daddy determined that a nursing mother is an expression of love. That a hug an infant was love and to kiss the child is considered loving. He also decided that to hurt the child was evil. To ignore the baby is hateful. To deny the child's life is sin. This was decided based upon what our Father values. He could have decided anything to be the way He wanted it to be. Yet, God is love. He, in Himself, has decided it to be so. So His decisions are love, the foundation of heaven is love. Everything the Son is doing for us on the Father's behalf is love. Everything we will see and experience in heaven is love.
            I look forward to going through these "Affirmations" with you. They are the blessing's we have freely been given this side of Heaven. These blessings are what the Father gave the Son, and He has given to the family. This will not be an exhaustive study of everything we have received. Just as the "Proclamations" are not everything, we will receive in heaven. There is more to find, I am sure. Therefore, our focus has been on the blessing and gifts Jesus received from the Father. Then relating it to how He is sharing them with the Family. All to help us better understand how much we are to be and become "Like Him," and share in His "Divine Nature!"
~We Shall Be Like Him – 1 John 3:2~