Day 19: Love Like The Fathers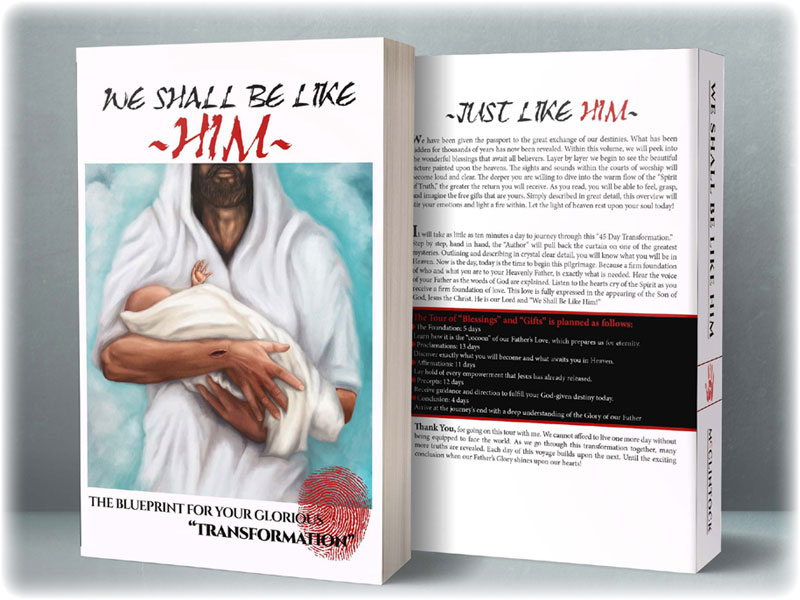 Affirmation #1
"As the Father hath loved Me, so have I loved you; continue ye in My love." (John 15:9)
            To be completely honest and transparent, I need to confess something. I find it hard to express the love of the eternal, being the finite and mortal being that I am. I have known God's love all my life. It is sure and true. Yet, how do I share with you accurately the love by which the Father has loved the Son. Then explain the love of the Father and Son for humanity? Out of everything in this book, I fear this is the one that might fall short. No, I can guarantee it is going to fall way short. I am just a mere actor on the stage of eternity. I didn't make the stage, or set the curtain, and I didn't write the script. To come completely clean, I feel a little foolish trying to use my finite mind to write down something that cannot be fully understood this side of Heaven. That being said, I am so convinced in His love. I have also experienced many encounters dwelling in the midst of His love. Therefore, I would be a liar to deny it. So like a little kid trying to wear his father's boots, we move forward. I can tell you my testimonies of His Love. I can run down every verse in the Bible showing His love. It would all fail to do it justice. It would be like me trying to describe to a person who has never tasted ice cream, exactly what it tastes like. God's Love and the Son's Love must be experienced to be understood. Then you can start to understand. Then you will need to have failed so many times in your sin, you would think, "He doesn't love me anymore." That's when His love reaches down and picks you up. I believe it is at this point His love becomes real to us. When we realize there is nothing we can do on our own. When we truly understand, our own helplessness compared to His willingness to help. Then we start to grasp the depth of love by which we are loved.
            The following verses make this point clear. Jesus describes how we are to love. He is also describing how our Father loves. Let us read, "Ye have heard that it hath been said, Thou shalt love thy neighbour, and hate thine enemy. But I say unto you, Love your enemies, bless them that curse you, do good to them that hate you, and pray for them which despitefully use you, and persecute you; That ye may be the children of your Father which is in heaven: for he maketh his sun to rise on the evil and on the good, and sendeth rain on the just and on the unjust. For if ye love them which love you, what reward have ye? do not even the publicans the same? And if ye salute your brethren only, what do ye more than others? do not even the publicans so? Be ye therefore perfect, even as your Father which is in heaven is perfect." (Mat 5:43-48) The idea of this love is to love those who cannot repay you, who have nothing to give in return that compares to the value of the gift that is given. This is how our Father has loved us. This is how He has loved the Son. This is also how Jesus has loved us, "But God commendeth his love toward us, in that, while we were yet sinners, Christ died for us." (Rom 5:8) This is how the Family of God loves. I would like to call it "Love Supreme." With the definition as follows: "The determined and passionate direction of the will of the Father, acting out the pure purposes of His self sacrificing determination of good. Thus, releasing up the receivers more blessings than could ever be repaid." Or, I can make it simpler and the definitions would be one word: "Jesus!"
            This love is meant to inspire such a great response in the heart of man that he turns to the one that loves Him. Let's read, "…Or despisest thou the riches of his goodness and forbearance and longsuffering; not knowing that the goodness of God leadeth thee to repentance?" (Rom 2:4) Most people describe repentance as turning away from sin or making a 180. I like the word picture of repentance as turning towards something. Yes, turning from sin, but more importantly, turning to the Father. His goodness and kindness invites us to turn to Him. We can never repay Him for His love. It is too great and wonderful. So when Jesus tells us "As the Father has loved Me, so I have loved you;" We can now understand, at least a little of what this love is.
             As Jesus continues to bestow upon us what He has received of the Father. He describes the love the Father has for Him in this verse. "…for thou lovedst me before the foundation of the world." (Joh 17:24b) Our Daddy has loved His Son since before the foundation of the world. I want to share another verse to open this up a bit. "And all that dwell upon the earth shall worship him, whose names are not written in the book of life of the Lamb slain from the foundation of the world." (Rev 13:8) Did you see that? Jesus has been loved by the Father since "before" the foundation of the world. Then we read that Jesus is the Lamb slain "from" the foundation of the world. We can bring this together even further, with this verse, Jesus said, "Therefore doth my Father love me, because I lay down my life, that I might take it again." (Joh 10:17) The root of the Fathers love was at play before there ever was a human. God has loved the Son before the world was, then at the foundation of the world, Jesus was the lamb slain. This means that He is the sacrifice for sin. So the Father loved the Son, and together they have loved humanity. Jesus declares; "As the Father hath loved me, so have I loved you: continue ye in my love." (Joh 15:9) Before the world was created, we see the love Jesus experienced with the Father. We see the expression of this love in Jesus' willingness to die for our sins, at the foundation of the world. Jesus, speaking to the Father, says: "And I have declared unto them thy name, and will declare it: that the love wherewith thou hast loved me may be in them, and I in them." (Joh 17:26) The only response for this type of love is to turn to the Father and leave our sins behind!
            I want to leave you with these verses to encourage you. Please notice that we are to continue on this sacrificial love, within the Family of God. "Herein is my Father glorified, that ye bear much fruit; so shall ye be my disciples. As the Father hath loved me, so have I loved you: continue ye in my love. If ye keep my commandments, ye shall abide in my love; even as I have kept my Father's commandments, and abide in his love. These things have I spoken unto you, that my joy might remain in you, and that your joy might be full. This is my commandment, That ye love one another, as I have loved you. Greater love hath no man than this, that a man lay down his life for his friends. Ye are my friends, if ye do whatsoever I command you. Henceforth I call you not servants; for the servant knoweth not what his lord doeth: but I have called you friends; for all things that I have heard of my Father I have made known unto you. Ye have not chosen me, but I have chosen you, and ordained you, that ye should go and bring forth fruit, and that your fruit should remain: that whatsoever ye shall ask of the Father in my name, he may give it you. These things I command you, that ye love one another." (Joh 15:8-17)
Let's Pray "Daddy, we praise You for the example of love You have given us. We praise You for the expression of Your love through Your Son. We have known Your love though Jesus and His sacrifice. Please allow us the opportunity to show the world Your love and the love of the Jesus. Let this love not end on a dead end street of our own selfishness. Yet, let it continue through us to the world we are called to reach. In this manner we can be as a river of love, delivering the moisture of grace to a dry and arid world."  In Jesus' precious and holy name we pray, Amen!
---
~We Shall Be Like Him – 1 John 3:2~