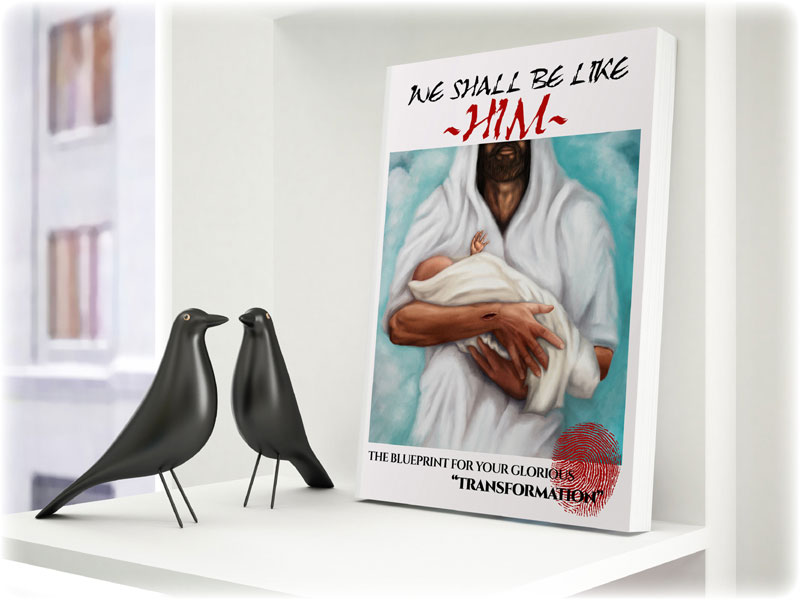 Proclamation #5
"But that which ye have already hold fast till I come. And he that overcometh, and keepeth my works unto the end, to him will I give power over the nations: And he shall rule them with a rod of iron; as the vessels of a potter shall they be broken to shivers: even as I received of my Father." (Revelation 2:25-27)
            Is Psalms 23 David declares that Gods Rod & Staff comfort him. This is a wonderful comparison. The Rod and the Staff are two different things. David finds comfort in each of them. Psalms 23 I believe hides an important point. The Rod or Scepter is kingly and is a symbol of ruling and authority. The Staff is a tool of a shepherd and is a symbol of personal care and provision. I would also say it denotes a responsibility of the shepherd for the sheep. Meaning that the Shepherd is on the hook for his sheep, pun intended. I believe David is revealing that we first must understand the care of the shepherd. Then we will no longer fear the justice of the King. The following verse best explains this, "Or despisest thou the riches of his goodness and forbearance and longsuffering; not knowing that the goodness of God leadeth thee to repentance?" (Rom 2:4) The shepherd's staff shows us the kindness of God. The scepter of the King rules for our benefit. David understood them both having used each of them as shepherd and king.
            In this Proclamation Jesus tells us He has received a "Rod of Iron" to rule, from His Father. He also tells us that He is going to give us a rod of iron to rule the nations. This rod or scepter is not married with the shepherd's staff. This is a rod to rule and dominate those who rejected the care of the shepherd. We will expand this some more with this prophecy: "For unto which of the angels said he at any time, Thou art my Son, this day have I begotten thee? And again, I will be to him a Father, and he shall be to me a Son? And again, when he bringeth in the first begotten into the world, he saith, And let all the angels of God worship him. And of the angels he saith, Who maketh his angels spirits, and his ministers a flame of fire. But unto the Son he saith, Thy throne, O God, is for ever and ever: a sceptre of righteousness is the sceptre of thy kingdom. Thou hast loved righteousness, and hated iniquity; therefore God, even thy God, hath anointed thee with the oil of gladness above thy fellows." (Heb 1:5-9) I would argue that this Rod of Iron spoken about in the Proclamation is a Rod of Righteousness as we just read. I believe it offends all vessels of unrighteous. Righteousness has no friendship with unrighteousness, as they are enemies. Keep this in mind as we continue on, "Yet have I set my king upon my holy hill of Zion. I will declare the decree: the LORD hath said unto me, Thou art my Son; this day have I begotten thee. Ask of me, and I shall give thee the heathen for thine inheritance, and the uttermost parts of the earth for thy possession. Thou shalt break them with a rod of iron; thou shalt dash them in pieces like a potter's vessel." (Psa 2:6-9) Jesus has absolute authority and right to make judgments upon the entire earth: [God] "Hath given him authority to execute judgment also, because he is the Son of man." (Joh 5:27)
            Psalms 2:6-9 uses the same words that Jesus used to explain to us what He would give us. As the Father declared over Him, Jesus declares to us. We continue on reading the prophecy of Jesus and His rule, "And she brought forth a man child, who was to rule all nations with a rod of iron: and her child was caught up unto God, and to his throne." (Rev 12:5) This prophecy of Jesus tells how He will rule the nations. It also tells us how we are to rule. You see, we will rule with Him when He returns to set the earth right again. Making an end of sin, "And out of his mouth goeth a sharp sword, that with it he should smite the nations: and he shall rule them with a rod of iron: and he treadeth the winepress of the fierceness and wrath of Almighty God." (Rev 19:15) This is not the gentle shepherd with a staff of wood. No, this is judgment against those who do not love righteousness. Jesus' scepter of righteousness is compelled to stand against all unrighteousness. The good news is that "Even the righteousness of God which is by faith of Jesus Christ unto all and upon all them that believe: for there is no difference:" (Rom 3:22) Therefore to accept the Lord as shepherd now removes all fear of His scepter of righteousness. For we become righteous through our faith/trust in the shepherd. In turn, He extends the scepter of righteousness to us. We can then co-rule with Him as we receive a rod of iron on His behalf to glorify the Father.
Let's Pray "Daddy, You have given all things into your Son's hands. In turn, following your example, He is giving all things to us. I then think of sin and compare it to the glory You have in store for those who have righteousness by faith. A righteousness only found in Jesus. I know the good shepherd waits for those who call out for help. Daddy we call out for help daily. We long for Jesus. Please guide us back home. Do not allow anything to remain in the way on this path of glory. Remove all stones of stumbling, and block all paths that lead away from Your embrace." In Jesus' precious and holy name we pray, Amen!
---
~We Shall Be Like Him – 1 John 3:2~