Day 42: Forever Glorified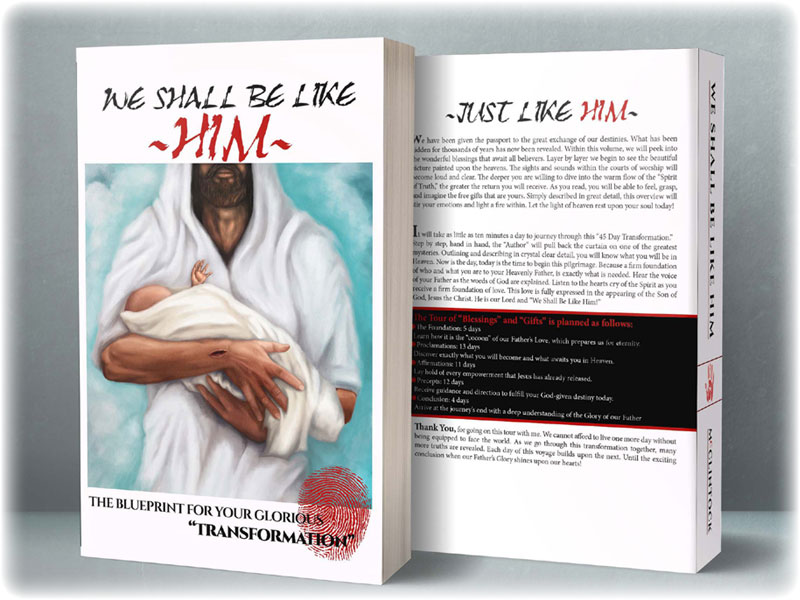 "And the glory which thou gavest me I have given them; that they may be one, even as we are one: I in them, and thou in me, that they may be made perfect in one; and that the world may know that thou hast sent me, and hast loved them, as thou hast loved me. Father, I will that they also, whom thou hast given me, be with me where I am; that they may behold my glory, which thou hast given me: for thou lovedst me before the foundation of the world." (John 17:22-24)
                  "δόξα," pronounced "Doxa," is the Greek word for glory. It is given the definition of honor, worship, dignity and praise. It can also mean glorious. You can find this in the Strong's Concordance under #G1391. We are told that when we see Jesus at His second coming it will be in the Father's doxa, or glory. "For the Son of man shall come in the glory of his Father with his angels; and then he shall reward every man according to his works." (Mat16:27) It might surprise some that there are layers of glory. Jesus already had His own doxa before He came to the earth. Before Jesus was crucified He prayed; "And now, O Father, glorify thou me with thine own self with the glory which I had with thee before the world was." (Joh 17:5) This is why we find that Jesus will also come back in His own glory: "When the Son of man shall come in his glory, and all the holy angels with him, then shall he sit upon the throne of his glory:" (Mat 25:31) Therefore, Jesus will come back in His doxa and the doxa of His Father. Praise God. This is what I would call "magnified glory." In the final three chapters, we will discuss why this is important to see the layers of "Glory."
                  Just as the Father has given Jesus His doxa/glory, Jesus in turn shares His glory with us. Let us read, "But we are bound to give thanks alway to God for you, brethren beloved of the Lord, because God hath from the beginning chosen you to salvation through sanctification of the Spirit and belief of the truth: Whereunto he called you by our gospel, to the obtaining of the glory of our Lord Jesus Christ." (2Th 2:13-14) Since we are covered in the blood of Jesus, God no longer sees our sinfulness. He sees the sinless blood of Jesus. This is how we receive the glory of Jesus. "For ye are dead, and your life is hid with Christ in God. When Christ, who is our life, shall appear, then shall ye also appear with him in glory." (Col 3:3-4) Here is another shocker. If we are not covered in the blood of Jesus, then we cannot receive His glory. If we do not receive His glory, then we cannot be with the Father. Let us read, "And the glory which thou gavest me I have given them; that they may be one, even as we are one: I in them, and thou in me, that they may be made perfect in one; and that the world may know that thou hast sent me, and hast loved them, as thou hast loved me. Father, I will that they also, whom thou hast given me, be with me where I am; that they may behold my glory, which thou hast given me: for thou lovedst me before the foundation of the world." (Joh 17:22-24) The doxa or glory has a great purpose in the plan of salvation.
                 With our good works, we are called to strive for glory. We are to labor for the glory our Daddy will give us all: "Who will render to every man according to his deeds: To them who by patient continuance in well doing seek for glory and honour and immortality, eternal life:" (Rom 2:6-7) Just as Jesus shares in the Father's glory, and we share in Jesus' glory. We are also called to one-day share in the glory of God, "That ye would walk worthy of God, who hath called you unto his kingdom and glory." (1Th 2:12) We have been born for glory. We have been made to receive glory. God our Daddy has determined it to be so, "And that he might make known the riches of his glory on the vessels of mercy, which he had afore prepared unto glory, Even us, whom he hath called, not of the Jews only, but also of the Gentiles?" (Rom 9:23-24) We have a glorious inheritance in God. We can only know this fully through our Lord and Savior Jesus our Christ, "That the God of our Lord Jesus Christ, the Father of glory, may give unto you the spirit of wisdom and revelation in the knowledge of him: The eyes of your understanding being enlightened; that ye may know what is the hope of his calling, and what the riches of the glory of his inheritance in the saints, And what is the exceeding greatness of his power to us-ward who believe, according to the working of his mighty power, Which he wrought in Christ, when he raised him from the dead, and set him at his own right hand in the heavenly places," (Eph 1:17-20) Oh' what manner of love has the Father given to His children!
                  "That ye would walk worthy of God, who hath called you unto his kingdom and glory." (1Th 2:12) We should all walk this life as if it is training to receive the glory of our Brother and Daddy. We are not to do those things that destroy the glory of our inheritance. We have been made new and should always behave as such. "Therefore if any man be in Christ, he is a new creature: old things are passed away; behold, all things are become new." (2Co 5:17) When we obey and abide, we have overcome and we can look forward to receiving an unlimited supply of blessings from our Daddy. "He that overcometh shall inherit all things; and I will be his God, and he shall be my son." (Rev 21:7) We do not need to wait until death to live as if we are glorified in Jesus. This is a present state of being. We have one glory now and are being transformed into a fuller, more complete glory, upon the return of Jesus, "But we all, with open face beholding as in a glass the glory of the Lord, are changed into the same image from glory to glory, even as by the Spirit of the Lord." (2Co 3:18)We have ownership of all that heaven can provide. Even though we cannot touch it in this present moment, it is all ours. "…Everything belongs to you." "…the world, life or death, present or future things, everything belongs to you. You belong to Christ, and Christ belongs to God." "… For all things are yours; … or the world, or life, or death, or things present, or things to come; all are yours; And ye are Christ's; and Christ is God's." (1Co 3:21-22b-23) Additionally we read, "According as his divine power hath given unto us all things that pertain unto life and godliness, through the knowledge of him that hath called us to glory and virtue: Whereby are given unto us exceeding great and precious promises: that by these ye might be partakers of the divine nature, having escaped the corruption that is in the world through lust." (2Pe 1:3-4)
                  We have seen the glory of Jesus, "And the Word was made flesh, and dwelt among us, (and we beheld his glory, the glory as of the only begotten of the Father,) full of grace and truth." (Joh 1:14) We also know we will receive glory and be glorified, in the same manner. Now we all have a race to run. We all have a purpose and calling upon our lives. We all have a mission from God to fulfill. There will be good times and tough times. Struggles and success' are the way of the Christian life. One of my favorite Bible verses encourages us to not give up, "But ye, brethren, be not weary in well doing." (2Th 3:13) I also love this verse, "I can do all things through Christ which strengtheneth me." (Php 4:13) Let us fight the good fight of faith, and go and seek and save the lost. So even more children of God can come into the kingdom and receive the same glory given to us. "Therefore I endure all things for the elect's sakes, that they may also obtain the salvation which is in Christ Jesus with eternal glory." (2Ti 2:10) We will enjoy the glory of Jesus and our Daddy forever. Please do not let any momentary struggle or burden rob you of this promise. It is all yours, forever!
Let's Pray "Daddy, I don't understand how so many people can say such evil things about You. You are the most caring, thoughtful, giving, loving, kind, gentle, and longsuffering Daddy ever. You have given Jesus Your glory, He has given us His glory, and You are giving us Your glory. This way we can all truly be one, abiding in unity and purpose. Thank You so much for restoring us from the fall of Adam. We are being called to an even greater glory than Adam and Eve received in the garden. You not only make us new again, you make everything better. I cannot wait until that day. Give us wisdom to know when the adversary is trying to steal our inheritance away from us. Please continue to strengthen us to not give up, or give into the devil. In our glory we have received from you, we will abide and obey." In Jesus' precious and holy name we pray, Amen!
"But we speak the wisdom of God in a mystery, even the hidden wisdom, which God ordained before the world unto our glory: Which none of the princes of this world knew: for had they known it, they would not have crucified the Lord of glory. But as it is written, Eye hath not seen, nor ear heard, neither have entered into the heart of man, the things which God hath prepared for them that love him. But God hath revealed them unto us by his Spirit: for the Spirit searcheth all things, yea, the deep things of God." (1Corinthians 2:7-10)
"The sun shall be no more thy light by day; neither for brightness shall the moon give light unto thee: but the LORD shall be unto thee an everlasting light, and thy God thy glory." (Isaiah 60:19)
Daddy, the revealing has begun!
---
~We Shall Be Like Him – 1 John 3:2~